(AB) Man soll die Feste feiern wie sie fallen. Zur Veröffentlichung der George Harrison Remasters "The Apple Years 1968-75" ließ es der 36-jährige Sohn des Ex-Beatles gleich zweimal krachen. Dhani Harrison war maßgeblich in Conan O'Briens "George Harrison Week" involviert und stellte zusammen mit thebestfest.com ein großes Gedenkkonzert auf die Beine, das am 28. September in Los Angeles stattfand. Besucher des im "Fonda Theater" zelebrierten "George Fest" sprachen im Nachhinein von einem unvergesslichen Erlebnis. Dies ist ohne Weiteres nachvollziehbar, wenn man sich die Liste der Künstler und der aufgeführten Songs ansieht. Neben den Auftritten von Harrison Junior ("Let It Down", "Savoy Truffle"), sollen die Interpretationen von Brian Wilson ("My Sweet Lord"), Weird Al Yankovic ("What Is Life") und Ian Astbury ("Be Here Now") zu den emotionalen Höhepunkten gezählt haben. Zu einer seltenen Performance als Musiker kam Talkmaster Conan O'Brien, der Harrisons Klassiker "Old Brown Shoe" sang und sich auch nicht für einen launigen Spruch zu schade war: "Man hat mir gesagt, dass das ein George Michael-Tribute sei. Ich habe eine Woche lang den Song 'Faith' geprobt!"
Den Abschluss bildeten "Handle With Care" und "All Things Must Pass", dargeboten von einer All-Star-Besetzung. Seit Montag nun sprießen diverse Fan-Videos des Konzerts wie Pilze aus dem YouTube-Boden. Ob das "George Fest" in irgendeiner Form noch offiziell dokumentiert wird, ist zum gegenwärtigen Zeitpunkt noch offen.
Setlist:
Awaiting on You All – The Cabin Down Below Band
Old Brown Shoe – Conan O'Brien
If I Need Someone – Jamestown Revival
For You Blue – Chase Cohl (mit Brian Bell)
Isn't It a Pity – The Black Ryder
If Not for You – Heartless Bastards
Any Road – Butch Walker
Taxman – Cold War Kids
Be Here Now – Ian Astbury
Art of Dying – Black Rebel Motorcycle Club
I Me Mine – Britt Daniel
I'd Have You Anytime – Karen Elson (mit Norah Jones)
Give Me Love (Give Me Peace on Earth) – Ben Harper
What Is Life – Weird Al Yankovic
Let It Down – Dhani Harrison
Ballad of Sir Frankie Crisp – Big Black Delta (mit Dhani Harrison)
Savoy Truffle – Dhani Harrison
It's All Too Much – The Flaming Lips
Here Comes the Sun – Perry Farrell
Wah-Wah – Nick Valensi
Behind That Locked Door – Norah Jones
Something – Norah Jones
Beware of Darkness – Ann Wilson
Got My Mind Set on You – Brandon Flowers
My Sweet Lord – Brian Wilson (mit Al Jardine)
Zugaben:
Handle with Care – Britt Daniel, Weird Al Yankovic, Wayne Coyne, Brandon Flowers u.a.
All Things Must Pass – Dhani Harrison, Ann Wilson, Karen Elson, Norah Jones u.a.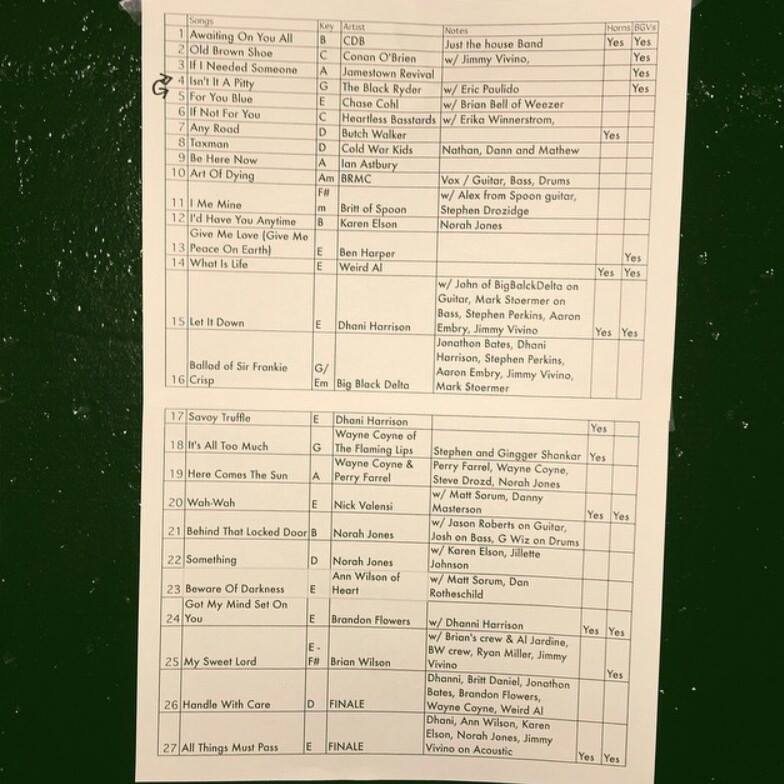 (Foto – zum Vergrößern bitte anklicken – mit freundlicher Genehmigung von Dhanner'z via Life2Short)