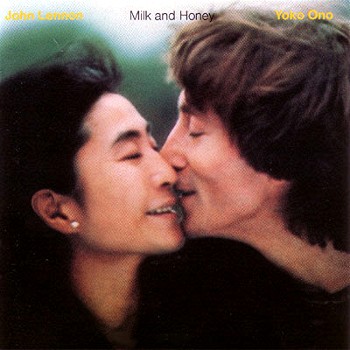 Milk And Honey
Veröffentlicht:  23. Januar 1984
LP: Polydor 817 160-1 Y (Deutschland)
CD: EMI 7243 5 35959 2 0 (Digitally remixed and remastered)
Titel:
I'm Stepping Out / Sleepless Night / I Don't Wanna Face It / Don't Be Scared / Nobody Told Me / O'Sanity / Borrowed Time / Your Hands / (Forgive Me) My Little Flower Princess / Let Me Count The Ways / Grow Old With Me / You're The One
Bonus Tracks auf der remasterten CD: Every Man Has A Woman Who Loves Him / Stepping Out (Home Version) / I'm Moving On / Interview with J & Y December 8th, 1980
Oberflächlich betrachtet ist "Milk And Honey" eine Resteverwertung des letzten zu Lebzeiten erschienenen Albums "Double Fantasy".  Böse Zungen mögen sogar behaupten, dass zu diesem Zeitpunkt Yoko Ono anfing, John Lennon gnadenlos zu kommerzialisieren. Man darf aber dankbar sein, dass "Milk And Honey" das Licht der Öffentlichkeit erblickte. Die hier enthaltenen Songs sind keinesfalls Abfallprodukte, sondern waren ohnehin für eine spätere Veröffentlichung vorgesehen. Das Weihnachtsgeschäft 1980 gebot es, "Double Fantasy" in der Form zu veröffentlichen, wie wir das Album heute kennen. Für die Post-Produktion der "Milk And Honey"-Songs war zu wenig Zeit und genau das ist der große Pluspunkt dieses Albums. Doch dazu später mehr.
Die Dramaturgie von "Milk And Honey" war die gleiche wie bei "Double Fantasy": Die Kompositionen von John Lennon und Yoko Ono wechseln sich ab. Schon beim Opener "I'm Stepping Out" wird klar, weshalb es von Vorteil war, dass die Zeit für weiteren Feinschliff und Abmischung nicht ausreichte. Zumindest die John Lennon-Songs kommen mit Ecken und Kanten daher, die man sich für "Double Fantasy" gewünscht hätte. Dies gilt insbesondere die erste Hälfte des Lennon-Anteils dieser Platte, die wirken, als wären sie in einem Take eingespielt worden. Das Songmaterial als solches ist dagegen sicherlich auf "Double Fantasy" etwas stärker.
Was hatten die ersten posthumen Lennon-Songs also zu bieten? "I'm Stepping Out", ein relaxter Rocksong, erzählt vom alltäglichen Leben Lennons im Dakota. Er unterliegt außer den häuslichen Aufgaben keinen Zwängen. Er wacht morgens leicht grummelig auf, zündet sich in der Küche erst einmal eine Zigarette, pafft die vermeintlichen Sorgen gen Himmel und zieht einfach mal um die Häuser. Und wenn er dazu keine Lust hat, lässt er es eben bleiben. Dies beschreibt sehr klar das Leben, wie es John Lennon in seinen letzten Lebensjahren sehr genossen hat. Ebenso wie "Stepping Out" zählt Lennon den nächsten Song "I Don't Wanna Face It" an – diesmal auf französisch und deutsch: "Un, deux … eins, zwei, hickle, pickle!" Hier klagt er einen unbekannten Adressaten an, nach außen hin ehrenwerte Ideale zu propagieren, sich jedoch selbst nicht danach zu richten:
"Say you're looking for some peace and love
Leader of a big old band
You wanna save humanity
But it's people that you just can't stand."
Aller guten Dinge sind drei: Auch "Nobody Told Me", zweifelsohne der stärkste Rocksong des Albums, wird angezählt und unterstützt damit erneut den Livecharakter. Hier handelt es sich um ein Lied über die Merkwürdigkeiten des Lebens, die in unserer schnelllebigen Zeit kaum noch zur Kenntnis genommen werden. Es liegt in Lennons Art, hier mitunter sehr groteske Bilder zu wählen:
"There's Nazis in the bathroom just below the stairs
Always something happening and nothing going on.
(…)
Everybody's runnin' and no one makes a move
Everyone's a winner and nothing left to lose
(…)
Everybody's smoking and no one's getting high
Everybody's flying and never touch the sky
There's a UFO over New York and I ain't too surprised."
Musikalisch gesehen ist das Reggae-gefärbte "Borrowed Time" keine Glanztat, der Text indes ist nicht so uninteressant. Lennon beschreibt in diesem Song jemanden (sich selbst?), der erkennt, als junger Mann gedankenlos in den Tag hineingelebt zu haben. Ideale und Träume erwiesen sich als Ilusionen.  Alles schien so einfach und blieb doch unklar. Nun, als gereifter Erwachsener, genießt er es, ein gewisses Alter und damit einen klaren Blick erreicht zu haben, dabei aber nichts zu bereuen.
"When I was younger
Full of ideas and broken dreams (my friend)
When I was younger ah hah
Everything simple but not so clear.
(…)
Living on borrowed time
Without a thought for tomorrow
(…)
Now I am older ah hah
The future is brighter and now is the hour
(…)
Good to be older ah hah
Less complications everything clear."
Der Reggae-Rhythmus setzt sich in "(Forgive Me) My Little Flower Princess" fort. Hatte Lennon schon in "Jealous Guy", "Aisumasen (I'm Sorry)" oder "Woman" Yoko um Entschuldigung für seine Verfehlungen gebeten: Hier tut er es wieder. Vielleicht das schwächste Lennon-Original dieses Albums.
Nun muss mit der Tradition gebrochen werden, den Yoko Ono-Songs auf "Double Fantasy" und "Milk And Honey" wenig Beachtung zu schenken, denn es folgen zwei für Lennon und Ono sehr wichtige Songs. Yokos "Let Me Count The Ways" und Johns "Grow Old With Me" wurden beide etwa zur gleichen Zeit geschrieben (Yoko daheim in New York, John auf den Bermudas), nämlich im Sommer 1980. Diese beiden Titel sind die Prototypen und Ideengeber für das Konzept des Songdialogs auf "Double Fantasy" und "Milk And Honey". Interessanterweise sind beide Songs nicht ausgearbeitet worden, sondern verbleiben hier in Form eines Demos in mäßiger Tonqualität. Yoko begleitet sich selbst am Klavier, John hat noch eine Rhythm-Box dazugeschaltet. Diese beiden an den jeweiligen Partner gerichteten Liebeslieder verstanden John und Yoko als eine moderne musikalische Form der Liebeslyrik des Schriftsteller-Ehepaares Robert (1812-1889) und Elizabeth Browning (1806-1861). Beide Songs sind mit schönen Melodien ausgestattet, wobei Lennons herzzerreißender Song ein echter Rohdiamant ist, der nur darauf wartet, geschliffen zu werden – was 14 Jahre später auch geschehen sollte (siehe "John Lennon Anthology").
"Grow old along with me
The best is yet to be
When our time has come
We will be as one
God bless our love."
Die Bonus Tracks der Remaster-CD beginnen mit John Lennons Interpretation des Ono-Songs "Every Man Has A Woman Who Loves Him". Lennons Phrasierung ist ungewöhnlich und ist ein deutlicher Beleg für Gesang und Kompositionsprinzip Yoko Onos. Des Weiteren hören wir eine Demo-Fassung von "I'm Stepping Out", bei der sich John Lennon an der Gitarre begleitet. Der Titel hat hier ein Swing-Feeling, das in der "Milk And Honey"-Endversion vollkommen verschwunden ist. Nach einem kurzen Ono-Demo von "I'm Moving On" (s. "Double Fantasy") schließt die CD mit einem knapp 22-minütigen, sehr interessanten Ausschnitt eines Interviews, das am 8. Dezember 1980 geführt wurde – ungefähr fünf Stunden vor John Lennons gewaltsamen Tod. Eine schauderhafte Vorstellung.
Zwischen Januar und Juli 1984 wurde drei Singles von "Milk And Honey" ausgekoppelt: "Nobody Told Me", "I'm Stepping Out" und "Borrowed Time". Lediglich die erste Single und das Album selbst (Nr. 3 in England) konnten sich in den Top-10 platzieren. Ohne Zweifel ist "Milk And Honey" eine interessante Platte. Es ist aber nicht schwer, sich vorzustellen, was passiert wäre, wenn das Vorgängeralbum nur aus Lennon-Songs bestanden hätte, die ansprechend produziert worden wären: Es wäre ein großer Lennon-Klassiker geworden. Doch es ist wie es ist und schließlich war es für die Beziehung von John und Yoko nur logisch, dass das Dialog-Konzept gewählt und umgesetzt wurde.
Anspieltipps:
Nobody Told Me / I'm Stepping Out / Grow Old With Me
Bewertung:



Pressestimmen:
"His six efforts are very good indeed – particulary the Instant Karma!-echoing Nobody Told Me."    – Q Magazine