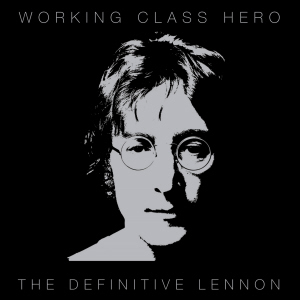 Working Class Hero
The Definitive Lennon
Veröffentlicht:  30. September 2005
LP: Nicht als Schallplatte erhältlich
CD: EMI/Parlophone 0966 3 40080 2 0
Titel:
CD 1:
(Just Like) Starting Over / Imagine / Watching The Wheels / Jealous Guy / Instant Karma! / Stand By Me / Working Class Hero / Power To The People / Oh My Love / Oh Yoko! / Nobody Loves You (When You're Down And Out) / Nobody Told Me / Bless You / Come Together / New York City / I'm Stepping Out / You Are Here / Borrowed Time / Happy Xmas (War Is Over)
CD 2:
Woman / Mind Games / Out The Blue / Whatever Gets You Thru The Night / Love / Mother / Beautiful Boy (Darling Boy) / Woman Is The Nigger Of The World / God / Scared / #9 Dream / I'm Losing You / Isolation / Cold Turkey / Intuition / Gimme Some Thruth / Give Peace A Chance / Real Love / Grow Old With Me
Wenn man einen Lennon-Sampler uneingeschränkt empfehlen kann, dann ist es zweifellos "Working Class Hero – The Defintive Lennon". Es handelt sich hier um die vierte reine Lennon-Solo-Kollektion. Zählt man Alben wie den "Imagine"-Soundtrack oder auch die "Lennon"-4-CD-Set dazu, erhöht sich diese Zahl sogar noch. Fürwahr eine ganzen Menge für jemanden, dessen Solokarriere sich im Grunde nur auf effektiv sechs Jahre beschränkt. Doch nun ist wirklich eine "definitive" Sammlung der besten Lennon-Tracks nach den Beatles erhältlich und es ist schwer vorstellbar, dass nach "Working Class Hero – The Definitve Lennon" ein weiterer Sampler überhaupt noch Sinn machen würde.
Warum ist "Working Class Hero" nun besser als "Lennon Legend"? Zunächst einmal – das liegt auf der Hand – ist es die umfassendere Songauswahl. Endlich ist das Meisterwerk "John Lennon / Plastic Ono Band" mit fünf Songs auf einem Sampler vertreten. Songs wie "Isolation" oder "God" gehören einfach dazu. Auch sind bisher weniger beachtete Tracks wie "Bless You", "Nobody Loves You (When You're Down And Out)", "You Are Here", "Out The Blue", "Intuition" nun würdige Vertreter ihrer Quellen "Mind Games" und "Walls And Bridges". Ferner war es eine gute Entscheidung, zwei Songs aus der "John Lennon Anthology" zu übernehmen: "Real Love", das "Beatles Anthology"-Vermächtnis Lennons an seine ehemaligen Freunde und Bandkollegen (hier als Piano Demo, Take 4) und schließlich das gefühlvolle, von George Martin überarbeitete "Grow Old With Me", das diesem hervorragenden Sampler einen würdigen Abschluss beschert. Schließlich sind die Songs tontechnisch optimiert worden (per Remix oder digitalem Remastering), so dass auch da keine Wünsche offen bleiben.
Das 20-seitige Booklet enthält zwar keine Liner Notes, jedoch die Mindestinformationen über die Herkunft der jeweiligen Songs. Das Ganze ist illustriert mit neun Schwarz-Weiß-Fotos aus unterschiedlichen Phasen der Solo-Karriere Lennons. Der Schwerpunkt liegt hier im Jahr 1971, lediglich das "Double Fantasy"-Jahr 1980 bleibt unberücksichtigt.
In England erreichte diese Best-Of-Zusammenstellung Platz 9. Während "Lennon Legend" in Deutschland noch Platz 11 schaffte, reichte es für "Working Class Hero – The Definitve Lennon" nur zu Platz 44. Trotzdem, ohne Übertreibung gesprochen: Dieser Sampler oder keiner.
Anspieltipps:
Durchweg mehr als hörenswert
Bewertung:





Pressestimmen:
"38 Solo-Songs von 1969 bis 1980, ob "Imagine", "Give Peace A Chance" oder "Cold Turkey" dringen nach wie vor tief. Dies ist eine absolut amtliche Retrospektive."     – Audio (11/05)