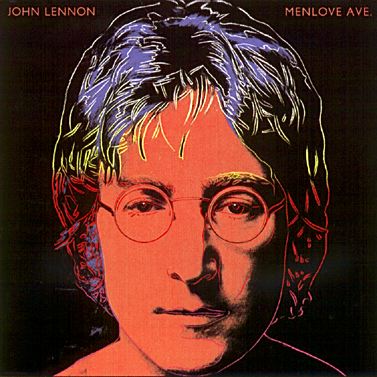 Menlove Ave.
Veröffentlicht:  03. November 1986
LP: EMI/Parlophone 1A 064 – 24 0658 1 (Deutschland)
CD: Capitol CDP 7 46576 2
Titel:
Here We Go Again / Rock And Roll People / Angel Baby / Since My Baby Left Me / To Know Her  Is To Love Her / Steel And Glass / Scared / Old Dirt Road / Nobody Loves You (When You're Down And Out) / Bless You
Das hatte es seit "Walls And Bridges" (Oktober 1974) und "Rock'n'Roll" (Februar 1975) nicht mehr gegeben: Im Abstand von nur wenigen Monaten erscheinen gleich zwei Lennon-Alben. Und genau die beiden eingangs erwähnten Werke sind der Ursprung dessen, was auf "Menlove Ave." zu hören ist. Seite eins, d.h. im Zeitalter digitaler Tonträger: die Tracks 1 – 5 enthalten Outtakes der "Rock'n'Roll"-Sessions, während der Rest aus Rehearsal-Material von "Walls And Bridges" besteht. Die umgekehrte Reihenfolge rührt daher, dass (ähnlich wie bei den Beatles "Let It Be" und "Abbey Road") "Rock'n'Roll" zwar zuerst aufgenommen, aber erst nach "Walls And Bridges" vollendet wurde. Yoko Ono zog es wohl vor, hier der Chronologie zu entsprechen.
Für den Sammler am wertvollsten ist sicherlich die erste Hälfte des Albums, denn schließlich sind alle fünf Titel bis dahin unveröffentlicht gewesen. Heute ist die Zusammenstellung weniger spektakulär, da "Angel Baby", "To Know Her Is To Love Her" und "Since My Baby Left Me" auch auf der remasterten CD-Ausgabe von "Rock'n'Roll" vertreten sind – allerdings in anderen Versionen. Diese Songs wie auch das nur auf "Menlove Ave." zu findende "Here We Go Again" entstammen den von Phil Spector produzierten Sessions und gehören nicht unbedingt zu den unbestrittenen Klassikern von John Lennon. Das wahrscheinlich interessanteste Stück des "Rock'n'Roll"-Anteils von "Menlove Ave." ist ein Song, das bereits im August 1973 im Rahmen der "Mind Games"-Sessions aufgenommen wurde: "Rock And Roll People". Keine komplexe Komposition, sondern schlichter, aber packender Rock'n'Roll – die Paradedisziplin Lennons. Der Titel schaffte es jedoch weder auf "Mind Games" noch auf "Rock'n'Roll". John Lennon gestattete es jedoch dem Bluesgitarristen Johnny Winter, eine eigene Version davon aufzunehmen, die schließlich auf dessen 1974er Album "John Dawson Winter III" erschien.
Hört man die Schallplattenversion [übrigens im Direct Metal Mastering-Verfahren (DMM) produziert] von "Menlove Ave.", dann fällt es nicht so stark ins Gewicht. Doch beim Abspielen der CD haben wir einen sehr harten atmosphärischen Schnitt zwischen der Phil Spector-typischen bombastischen "Wall Of Sound" der Songs 1-5 und den vergleichsweise zarten Demofassungen der Titel, die für "Wall And Bridges" vorgesehen waren. John Lennons Interpretationen sind konzentriert und von unglaublicher Dichte und Präsenz und sicherlich der hörenswertere Teil von "Menlove Ave.". Bei "Steel And Glass", wohl das Highlight dieses Albums, kann es John Lennon dennoch nicht lassen, seinen typischen Wortwitz einzubauen. Statt der Zeilen
"There you stand with your L.A. tan
And your New York walk and your New York talk"
ist Folgendes zu hören:
"There you stand with your toilet stand
And your Mickey Duck and your Donald Fuck"
Alle Songs von "Steel And Glass" bis "Bless You" sind unfertig, befinden sich im Probenstatus und üben aufgrund ihrer Intensität und Fragilität dennoch eine Faszination aus, wie man sie zuletzt auf "John Lennon / Plastic Ono Band" erleben konnte. Oft lenkte zu viel Produktions-Brimborium von Lennons eigentlichen Qualitäten ab. Hier allerdings wird er in sparsamster Form begleitet vom Schlagzeuger Jim Keltner, dem Gitarristen Jesse Ed Davis und Klaus Voormann am Bass.  Betrachtet man es in diesem Zusammenhang, so wäre Lennon heute ein ideale Besetzung für ein "Unplugged"- oder "Storytellers"-Konzert.
Anspieltipps:
Rock And Roll People / Steel And Glass / Old Dirt Road
Bewertung:



Pressestimmen: