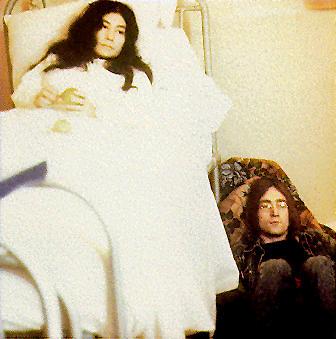 Unfinished Music No. 2: Life With The Lions
Veröffentlicht:  09. Mai 1969
LP: Zapple 01 (England)
CD: Rykodisc RCD 10412
Titel:
Cambridge 1969 / No Bed For Beatle John / Baby's Heartbeat / Two Minutes Silence / Radio Play
Bonus-Tracks auf der CD: Song For John / Mulberry
Für wen hält er sich, der John Lennon, mögen sich die Hörer auch bei diesem Album gefragt haben. Aber so allmählich ließ die Schockwirkung nach, da die Öffentlichkeit von John Lennon bis dato schon einiges gewohnt war. Neben "Two Virgins" und George Harrisons "Electronic Sound" (ebenfalls am 09. Mai 1969 veröffentlicht) war dies die dritte Produktion, die einem experimentellen Hintergrund entsprang. Zu diesem Zweck rief Apple ein Tochterlabel namens Zapple ins Leben, das für ungewöhliche Projekte wie die genannten vorgesehen war. Fest eingeplant waren beispielsweise auch Sprechplatten von Poeten wie Allen Ginsberg oder anderen. Dennoch blieb es bei "Electronic Sound" und "Life With The Lions" als einzig realisierte Zapple-Produktionen.
Die Aufnahmen von "Life With The Lions" entstanden zu zwei verschiedenen Zeitpunkten. Die A-Seite der LP war vollkommen einem Auftritt gewidmet, den John Lennon und Yoko Ono an der Universität von Cambridge am 02. März 1969 hinlegten. Man hört nichts weiter als die von John Lennon und seiner Gitarre verursachten Rückkopplungen und die hinlänglich bekannten Kreischattacken Yoko Onos, die gegen Ende vom Saxophonisten John Tchicai und dem Percussionisten John Stevens begleitet werden. Grausame 26 Minuten und 28 Sekunden.
Seite zwei wurde fünf Monate zuvor aufgenommen, und zwar zwischen dem 04. und 25. November 1968. Yoko Ono befand sich mit Schwangerschaftsproblemen (die letztlich zu einer Fehlgeburt führten) im Londoner Queen Charlotte Hospital. "In No Bed For Beatle John" werden Presseberichte zu dem aktuellen Problemen des Paares vorgesungen. Dabei schien Yoko Ono dem Mikrofon des Tonbandgerätes am nächsten zu sitzen, denn Lennons "Gesang" ist nur leise im Hintergrund zu vernehmen. Im Anschluss daran wurde eine Bandschleife mit Aufnahmen der Herztöne des Babys auf gut fünf Minuten gestreckt. Nach so großer Anstrengung hat der Hörer Entspannung verdient. Die bekommt er dann auch mit "Two Minutes Silence". Zwei Minuten lang hört man … gar nichts, bevor die Nerven wieder beansprucht werden: "Radio Play" bietet knappe 13 Minuten Herumspielen auf Radiofrequenzen, das außer einem begleitenden kurzen Ausschnitt, in dem man John Lennon telefonieren hört, nichts weiter als Knacken und Rauschen hervorbringt.
Rykodisc hat die CD mit zwei Bonustracks aus dem gleichen Entstehungszeitraum ausgestattet. "Song For John" ist eine anderthalbminütige Ode Yoko Onos, die von John Lennon im Stil seines Songs "Julia" (vgl. "Weißes Album") an der akustischen Gitarre begleitet wird. Auf "Mulberry" wieder das alte Spiel: Yoko quietscht wie ein Äffchen und John mit wirrer Improvisation an seiner Akustikgitarre.
John Lennon und Yoko Ono durchlebten im Winter 1968 / 69 zweifelsfrei eine schwere Phase, die in der Fehlgeburt eines Sohnes, Heroinkonsum und einem Drogenurteil gipfelten, das John Lennon später Einreiseprobleme in die USA bereitete. Eine schwere Phase durchlebt allerdings auch der Hörer von "Life With The Lions". Es ist nicht weiter verwunderlich, dass die originalen Schallplatten von "Two Virgins", "Life With The Lions", "Wedding Album" oder auch "Electronic Sound" – sofern man sie heute noch ergattert – in gutem bis sehr gutem Zustand sind. Freiwillig hört sich das kaum jemand mehr als ein Mal an.
Anspieltipps:
Two Minutes Silence 😉
Bewertung:

Pressestimmen:
"However, the albums John Lennon made with Yoko Ono in the late '60s, including "Two Virgins" and "Life With The Lions", didn't suggest that he had anything to say in the avantgarde-medium. These were the formless dabblings of two mutulally obsessed lovers."         – UNCUT