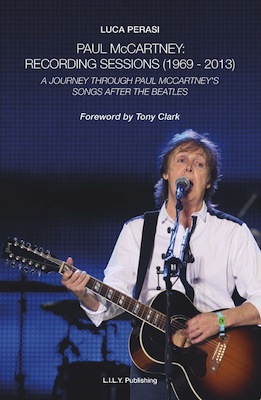 Paul McCartney:
Recording Sessions (1969-2013)
A journey through Paul McCartney's
songs after the Beatles
Luca Perasi
Erstveröffentlichung: Oktober 2013
440 Seiten in englischer Sprache
L.I.L.Y. Publishing – Mailand, Italien
ISBN: 9-788890-912214
Preis: 28,00 €
"Paul McCartney: Recording Sessions (1969-2013)" verweist schon im Titel auf die Struktur dieser bemerkenswerten Rechercheleistung über die Studioarbeit von McCartney nach den Beatles: Es ist eine Arbeit, die chronologisch durch das Werk des Ex-Beatles führt. Sie beginnt mit den Aufnahmen zum Solo-Debüt "McCartney", die bereits zum Jahresausklang 1969 – kurz vor dem endgültigen Split der Band – entstanden. Den Abschluss bildet ganz aktuell das im Oktober 2013 veröffentlichte Album "New". Darüber hinaus werden auch – eingebettet in die entsprechenden Aufnahmesessions – bislang unveröffentlichte Songs vorgestellt. Die Darstellung des Solowerks wird ergänzt durch Aussagen von McCartney selbst sowie oftmals exklusive Informationen durch Mitstreiter wie die Ex-Wings-Mtglieder Denny Seiwell, Laurence Juber und Steve Holley, durch den Toningenieur aus Beatles- und Wings-Zeiten Tony Clark (der auch das Vorwort schrieb) oder auch vom Komponisten und Dirigenten Carl Davis, mit dem McCartney an seinem klassischen Werk "Liverpool Oratorio" arbeitete.
Jedes Album, jeder Song wird präsentiert mit Hintergrundgeschichten, Angaben zu "Wer-spielte-welches-Instrument" (wobei der Autor hier mitunter Mutmaßungen anstellt und die Angaben mit einem Fragezeichen versieht), Aufnahmeorte, Veröffentlichungsdaten, Chartnotierungen und vieles mehr. Ein vergleichbares Werk war bis dato "Together Alone" von John Blaney, der in ähnlicher Weise (nur mit etwas mehr subjektiver, kritischer Bewertung) die Solo-Veröffentlichungen von John Lennon und Paul McCartney gegenüberstellte – jedoch nur bis McCartneys Oratorium "Ecce Cor Meum" (2006) und dem seltenen Lennon-Sampler "Remember" (2007).
Die Erstauflage von "Paul McCartney: Recording Sessions (1969-2013)" ist 2011 in der Muttersprache des Italieners Luca Perasi erschienen. Nun liegt das Buch erstmalig (und selbstverständlich noch aktueller) in englischer Sprache und um einige Inhalte erweitert vor. Eine deutsche Übersetzung von Werken mit eher speziellem, wissenschaftlichem Anspruch scheitert oft an kommerziellen Überlegungen und an kongenialen Übersetzern. Mark Lewisohns gerade erschienener erster Teil "Tune In" zum Beatles-Mammutwerk "All These Years" ist dafür das beste Beispiel. Zur Lektüre für geneigte deutsche Leser ist in diesem Fall ein solides Schul-Englisch hingegen vollkommen ausreichend.
Fotos würden dieses Buch sicherlich noch bereichern, werden aber von den Beatles- und McCartney-Fans kaum vermisst, die sich für aufschlussreiche Fakten und Informationen interessieren. Wer seine Schwerpunkte woanders setzt, sollte einen Kauf überdenken. Auch wenn eine etwas kritischere Note sowie auch eine diskografische Übersicht fehlen: Dem Rest sei "Paul McCartney: Recording Sessions (1969-2013)" wärmstens ans Herz gelegt. Gegenwärtig ist dies die beste Behandlung des Themas und in der Flut von Beatles-Buchveröffentlichungen eine herausragende Arbeit. Eine für Komplettisten schmerzhafte Einschränkung muss zum Schluss dann doch gemacht werden: Luca Perasi beschränkt sich auf den Komponisten Paul McCartney, auf Songs, die der ehemalige Beatle entweder selbst oder mit anderen geschrieben hat. So tauchen z.B. Jimmy McCullochs Glanzlichter "Medicine Jar" ("Venus And Mars", 1975), "Wino Junko" ("Wings At The Speed Of Sound", 1976), Denny Laines "Again And Again And Again" ("Back To The Egg", 1979) oder die Coversongs der Alben "Choba B CCCP" (1988), "Run Devil Run" (1999) oder auch "Kisses On The Bottom" (2012) nicht auf. Es wäre sicherlich kein großes Problem gewesen, diese wenigen Songs mit in die Werkschau aufzunehmen. Aus diesem Grund kann dieses Buch leider nicht ganz zufriedenstellen.