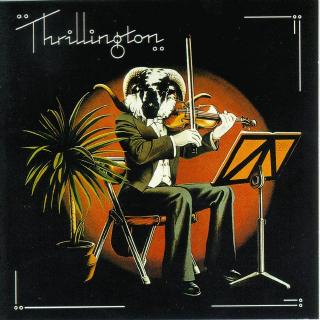 Thrillington
Veröffentlicht:  29. April 1977
LP: EMI 1C 066 – 98745 (Deutschland)
CD: EMI / Regal Zonophone 07243 8 32145 2 5
Titel:
Too Many People / 3 Legs / Ram On / Dear Boy / Uncle Albert – Admiral Halsey / Smile Away / Heart Of The Country / Monkberry Moon Delight / Eat At Home / Long Haired Lady / The Back Seat Of My Car
Das Album "Thrillington" trägt den Namen seines Interpreten – Percy "Thrills" Thrillington. Wären die Songs nicht so eindeutig und Paul McCartneys Antlitz nicht auf der Coverrückseite zu sehen, so wäre es schwierig gewesen herauszufinden, wer Percy Thrillington wirklich ist. Auch die auf das Albumcover gedruckte Biografie, die von einem gewissen Clint Harrigan verfasst wurde, hätte nicht entscheidend weitergeholfen. Kurz: Sowohl Clint Harrigan (von dem auch die Sleeve Notes auf "Wings Wild Life" stammten) als auch Percy Thrillington waren Pseudonyme von Paul McCartney.
Als "Thrillington" 1977 erschien, waren die Aufnahmen schon sechs Jahre alt. Innerhalb von drei Tagen – vom 15. bis 17 Juni 1971 – entstanden diese Neuinterpretationen von Songs des "Ram"-Albums. Paul McCartney hatte den Wunsch, mit den Songs, die er für "Ram" geschrieben hatte, noch etwas anderes anzufangen. Er stellte sich vor, dass jemand das Album im Big Band-Sound aufnehmen würde. Seine Leidenschaft für dieses Genre, speziell für die Musik der 1920er und 1930er Jahre ist bekannt. Da aber keine potenziellen Interessenten McCartneys Tür einrannten, übernahm der Meister schließlich selbst die Regie.
Unterstützen ließ sich McCartney in Fragen des Arrangierens bei Richard Hewson, der schon die McCartney-Produktion von Mary Hopkins "Those Were The Days" orchestriert hatte. Genau genommen ließ McCartney Hewson weitgehend freie Hand. Er stellt nur die Bedingung, dass das Orchester um eine Popband ergänzt wird. So verpflichtete Richard Hewson Studiomusiker, die ihm geeignet erschienen (darunter auch Herbie Flowers am Bass, der später auf mehreren Produktionen von George Harrison vertreten war). Auch wenn es eine Instumentaleinspielung war, so wurde mit den Mike Sammes Singers auch ein Chor zu den Aufnahmen eingeladen.
Die Veröffentlichung fiel in die Blütezeit des Punk. Diese Musikrichtung war radikal, erschütterte die Popmusik in ihrern Grundfesten und sorgte mit ihrem Drei-Akkorde-Dilettantentum für ein reinigendes Gewitter. Insbesondere auf den Artrock von Genesis oder Yes mit ihren ausufernden Soli hatten es Bands wie die Sex Pistols, The Clash oder die Dead Kennedys abgesehen. Auch Musiker wie Paul McCartney blieben davon nicht unbeeinflusst [vgl. "Spin It On" ("Back To The Egg") oder "Boil Crisis" (bisher unveröffentlicht)]. McCartney war stets ein Musiker, der auch aktuelle Trends und Musikströmungen für sich nutzte, doch er war und ist immer noch jemand, der kreative Entscheidungen trifft, mit denen man nicht rechnet. So setzte er 1977 also dem Punkrock eine Scheibe entgegen, die durch und durch nach der Zeit klingt, in der sie aufgenommen wurde. Man erinnert sich an James Lasts "Nonstop Dancing"-Reihe in der elterlichen Musiktruhe und kommt unweigerlich auf den Gedanken, dass "Thrillington" in den beginnenden 70er Jahren durchaus Hitpotenzial gehabt hätte. Doch man schrieb das Jahr 1977 und so tauchten trotz geschickter und witziger Promotionkampagnen weder die Single ("Uncle Albert/Admiral Halsey"/"Eat At Home") noch das Album in den Charts auf. Warum genau McCartney diese Platte auf diese Weise der Öffentlichkeit präsentierte, bleibt vorerst sein Geheimnis.
Insgesamt klingt diese Neuinterpretation des komplexen "Ram"-Albums heute recht angestaubt und altbacken – "Muzak" im Sinne der Lennon-Attacke aus "How Do You Sleep?". Instrumentierung und Produktion sind hervorragend, doch möglicherweise hätte es dem Projekt besser zu Gesicht gestanden, auf Chor und Popband zu verzichten und die Arrangements konsequenter im traditionellen Stil eines Duke Ellington, Benny Goodman, Glenn Miller oder Jimmy Dorsey zu schreiben. So aber bleibt "Thrillington" ein Album, das eher selten aus dem Platten- oder CD-Regal gezogen wird.
Anspieltipps:
Dear Boy, Heart Of The Country
Bewertung:
Pressestimmen: