(AB) Nach der groß angekündigten, aber überraschungsarmen Würdigung "The Art Of McCartney" erscheint am 24. März 2015 ein weiteres Werk, mit dem der Songschreiber Paul McCartney geehrt wird. Auf der "A MusiCares Tribute To Paul McCartney" genannten DVD/Blu-ray covern unterschiedliche Musiker McCartneys Songs. Auch der Ex-Beatle selbst bringt einige seiner Kompositionen zu Gehör. Bei "A MusiCares Tribute To Paul McCartney" handelt es sich um den Konzertmitschnitt einer Gala vom 10. Februar 2012, bei der McCartney als "MusiCares Person Of The Year" ausgezeichnet wurde.
MusiCares ist eine 1989 gegründete Stiftung, die der National Academy of Recording Arts And Sciences (Veranstalter der alljährlichen Grammys) unterstellt ist und Musiker unterstützt, die in gesundheitliche und andere Notlagen geraten sind. Seit 1991 wird der Titel "MusiCares Person Of The Year" an einen Musiker verliehen. Unter den bisherigen 24 Preisträgern war Paul McCartney einer von sechs Nicht-Amerikanern. 2015 wird die Auszeichnung an Bob Dylan gehen.
"A MusiCares Tribute To Paul McCartney" enthält leider nicht alle bei dieser Gala gespielten Songs. Es fehlen Dave Grohls Foo Fighters mit "Jet", Tony Bennetts Version von "Here, There And Everywhere", Katy Perry mit "Hey Jude" und McCartney höchstpersönlich, der von Diana Krall und John Pizzarelli bei "I'm Gonna Sit Right Down And Write Myself A Letter" begleitet wurde.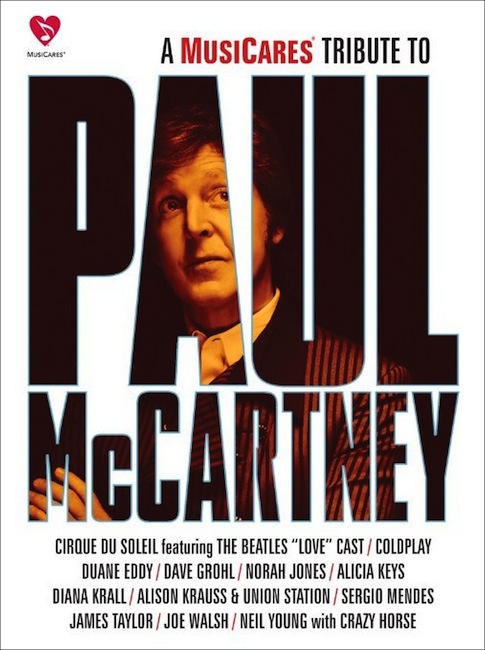 A MusiCares Tribute To Paul McCartney (DVD/Blu-ray Inhalt):

"Get Back / Hello Goodbye / Sgt. Pepper's Lonely Hearts Club Band" – Cirque du Soleil feat. The Beatles 'Love' Cast
"Magical Mystery Tour" – Paul McCartney
"Junior's Farm" – Paul McCartney
"Blackbird" – Alicia Keys
"No More Lonely Nights" – Alison Krauss & Union Station featuring Jerry Douglas
"And I Love Her" – Duane Eddy
"Oh! Darling" – Norah Jones
"I Saw Her Standing There" – Neil Young with Crazy Horse
"The Fool On The Hill" – Sergio Mendes
"We Can Work It Out" – Coldplay
"Yesterday" – James Taylor with Diana Krall
"For No One" – Diana Krall with James Taylor
"My Valentine" – Paul McCartney
"Nineteen Hundred and Eighty Five" – Paul McCartney
"Golden Slumbers / Carry That Weight / The End" – Paul McCartney featuring Dave Grohl and Joe Walsh

Die Foo Fighters fanden Gefallen an "Jet" und spielten den Wings-Klassiker bei einigen ihrer Konzerte – wie hier am 05. September 2012 in Charlotte/North Carolina.