(AB) Die ersten fünf Konzerte der "One On One"-Tour sind Geschichte. Nach dem Auftritt am 20. April in Vancouver gönnt sich Paul McCartney momentan eine zehntägige Auszeit. Unterdessen sind mit Auftritten in Boston, Cleveland und Washington DC drei neue Termine in den Tourplan aufgenommen worden. Somit stehen nun 22 Konzerten auf dem amerikanischen Kontinent 10 Gastspiele in Europa gegenüber.
Zurückgeblickt auf die vergangenen fünf Konzerte stellten sich die beiden Auftritte in Vancouver als besondere Ereignisse heraus. Beide Konzerte erhielten im Zugabenblock den größten Wings-Hit "Mull of Kintyre", begleitet von der Delta Police Pipe Band. In Städten wie Glasgow, Toronto, Ottawa, Nova Scotia oder Vancouver spielt McCartney inzwischen traditionell diesen Song.
Darüber hinaus konnte der Ex-Beatle in Vancouver zwei prominente Gäste auf der Bühne begrüßen. So war dies am ersten Tag die Jazzpianistin und -sängerin Diana Krall, die maßgeblich an den Aufnahmen von McCartneys Album "Kisses On The Bottom" (2012) beteiligt war. Sie begleitete Paul McCartney in Vancouver folglich bei dem populärsten Stück dieses Albums: "My Valentine".
Am zweiten Tag schlug Jimmy Fallons Stunde. Fallon, beliebter Moderator der "Tonight Show", ist bekennender Beatles-Fan und leidenschaftlicher McCartney-Imitator.  Er kam direkt nach "Mull of Kintyre" auf die Bühne und sang mit kindlicher Begeisterung bei "I Saw Her Standing There" mit und gab ein paar vor Euphorie überschäumende Tanzeinlagen zum Besten.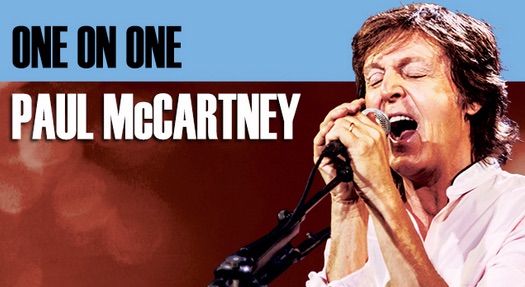 "ONE ON ONE"-Tour 2016
APRIL:
13. April 2016: Fresno, Kalifornien (USA) – SaveMart Arena
15. April 2016: Portland, Oregon (USA) – Moda Center
17. April 2016: Seattle, Washington, (USA) – Key Arena
19. April 2016: Vancouver, British Columbia (Kanada) – Rogers Arena
20. April 2016: Vancouver, British Columbia (Kanada) – Rogers Arena
30. April 2016: Little Rock, Arkansas (USA) – Verizon Arena
MAI
02. Mai 2016: Sioux Falls, South Dakota (USA) – Denny Sanford Premier Center
04. Mai 2016: Minneapolis, Minnesota (USA) – Target Center
05. Mai 2016: Minneapolis, Minnesota (USA) – Target Center
15. Mai 2016: Córdoba (Argentinien) – Alberto Kempes Stadium
17. Mai 2016: Buenos Aires (Argentinien) – Estadio Unico de la Plata
19. Mai 2016: Buenos Aires (Argentinien) – Estadio Unico de la Plata
28. Mai 2016: Düsseldorf (Deutschland) – Esprit Arena ⊗
30. Mai 2016: Paris (Frankreich) – Accor Arena Bercy
JUNI
02. Juni 2016: Madrid (Spanien) – Vicente Calderón Stadium
10. Juni 2016: München (Deutschland) – Olympiastadion ⊗
12. Juni 2016: Megaland-Landgraaf (Niederlande) – Pinkpop Festival
14. Juni 2016: Berlin (Deutschland) – Waldbühne ⊗
16. Juni 2016: Prag (Tschechien) – O2 Arena
24. Juni 2016: Bergen (Norwegen) – Bergenhus Fortress
27. Juni 2016: Herning (Dänemark) – Jyske Bank Boxen
30. Juni 2016: Werchter (Belgien) – Rock Werchter
JULI
08. Juli 2016: Milwaukee, Wisconsin (USA) – SummerFest
10. Juli 2016: Cincinnati, Ohio (USA) – US Bank Arena
12. Juli 2016: Philadelphia, Pennsylvania (USA) – Citizens Bank Park
17. Juli 2016: Boston, Massachusetts (USA) – Fenway Park
19. Juli 2016: Hershey, Pennsylvania (USA) – Hersheypark Stadium
21. Juli 2016: Hamilton, Ontario (Kanada) – FirstOntario Centre
AUGUST
07. August 2016: East Rutherford, New Jersey (USA) – MetLife Stadium
09. August 2016: Washington, DC (USA) – Verizon Center
13. August 2016: St. Louis, Missouri (USA) – Busch Stadium
17. August 2016: Cleveland, Ohio (USA) – Quicken Loans Arena