(AB) "Having a meeting at Universal getting ready to release my new CD postcards from Paradise it's Great peace and love"- so twitterte Ringo Starr vor einigen Tagen, als die Songs, das Erscheinungsdatum und der Titel des kommenden Albums öffentlich wurden. Doch "Postcards From Paradise" wird nicht nur als CD erscheinen, sondern auch auf Vinyl. Schallplattenfreunde und Sammler können sich zumindest berechtigte Hoffnungen machen, denn Amazon.com gibt für die Vinylausgabe den 2. Juni 2015 als Veröffentlichungstermin an.
Nach einer 18-jährigen Pause – "Time Takes Time" von 1992 war das letzte Werk auf Vinyl – veröffentlicht Ringo Starr seit 2010 ("Y Not") seine Studioalben auch wieder als Schallplatte.
Postcards From Paradise
(CD-Veröffentlichung: 31.03.2015*)

01. Rory And The Hurricanes
02. You Bring The Party Down
03. Bridges
04. Postcards From Paradise
05. Right Side Of The Road
06. Not Looking Back
07. Bamboula
08. Island In The Sun
09. Touch And Go
10. Confirmation
11. Let Love Lead
* Termin laut internationaler Universal-Pressemeldung. In Deutschland erscheinen neue Tonträger jedoch freitags, so dass das Werk hierzulande bereits am 27. März erhältlich sein könnte.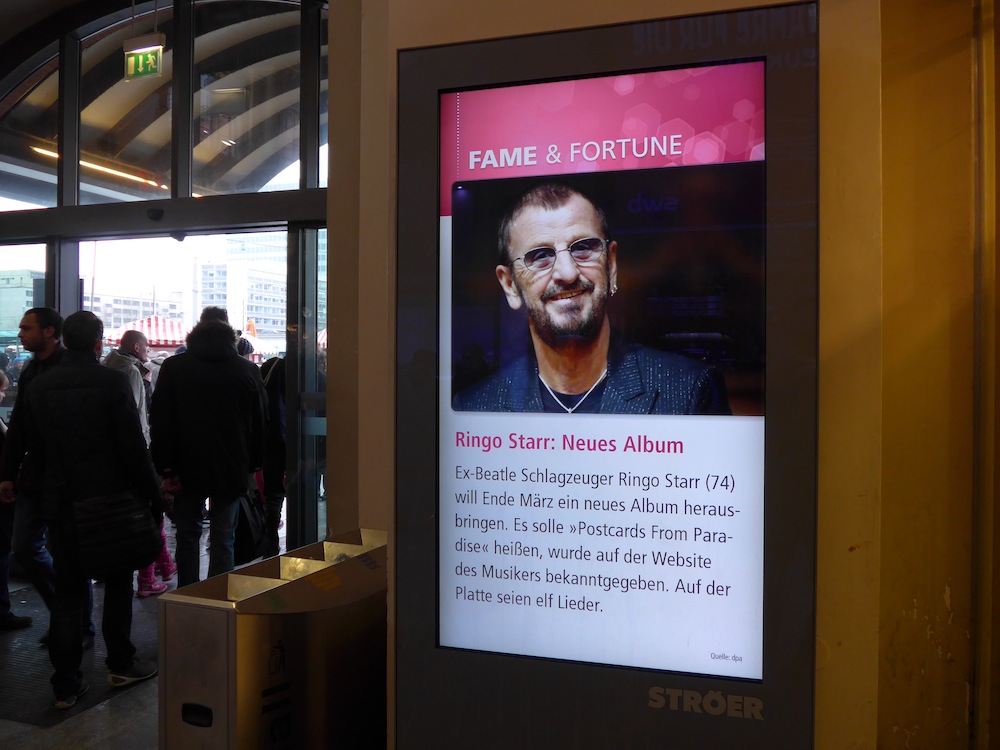 Ringo Starrs kommendes Album erfährt in den Medien eine Menge Aufmerksamkeit – wie auch hier am Bremer Hauptbahnhof.                                           Foto © Ansgar Bellersen