(AB) Wenn in diesen Tagen mit "Venus And Mars" bzw. "Wings At The Speed Of Sound" zwei neue Ausgaben der Paul McCartney Archive Collection erscheinen, dann ist die außergewöhnliche Remaster-Serie auf sieben Werke angewachsen. Die Wartezeit hat ein Ende und der geneigte Musikfreund wird neugierig die kleine Karte aus der CD bzw. aus dem Deluxe Package fischen um sich darüber zu informieren, welche remasterten Alben in nächster Zukunft folgen werden.
Die ersten verschickten Rezensionsexemplare – die ex-beatles.de allerdings noch nicht vorliegen – brachten nun bereits zutage, dass demnächst "Tug Of War" (1982) und "Pipes Of Peace" (1983) erscheinen werden. Damit würde ein Sprung in die 80er Jahre erfolgen, der die noch fehlenden Wings-Alben "Wings Wild Life", "Red Rose Speedway", "London Town" und "Back To The Egg" ausließe. Nun meldet allerdings der Beatles Examiner, dass diese Angabe mit Vorsicht zu genießen sei. Ein Sprecher von McCartneys Label Concorde Music habe bestätigt, dass die Info-Karte die beiden o.g. Alben als mögliche nächste Veröffentlichungen aufführt. Dennoch sei dies noch nicht endgültig und verlässlich.
Somit bleibt die Veröffentlichtungsstrategie der Paul McCartney Archive Collection weiterhin intransparent und wenig schlüssig.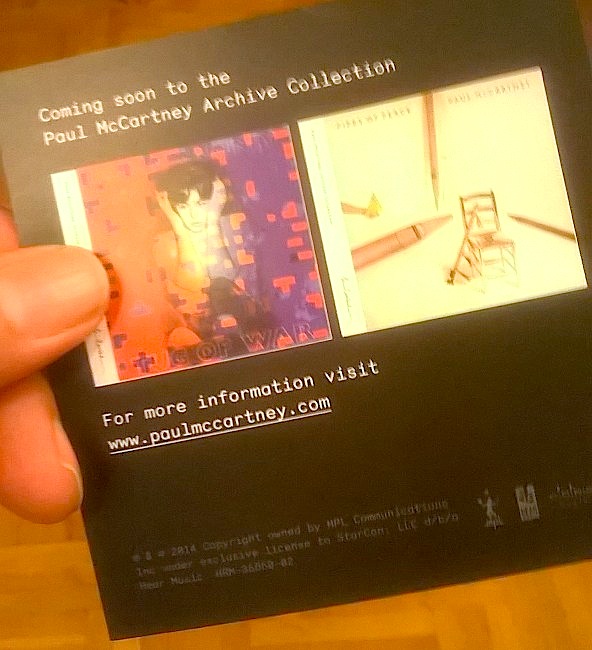 (Foto mit freundlicher Genehmigung von www.germanbeat.info)