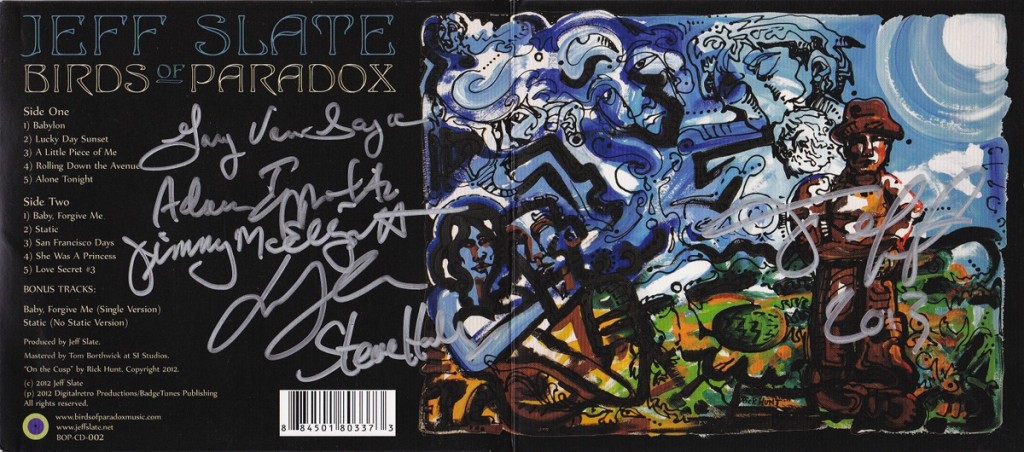 Jeff Slate: Birds Of Paradox
Veröffentlicht: 09. Oktober 2012
Digitalretro Productions / BadgeTunes Publishing BOP-CD-002
Titel:
Babylon / Lucky Day Sunset / A Little Piece Of Me / Rolling Down The Avenue / Alone Tonight / Baby, Forgive Me / Static / San Francisco Days / She Was A Princess / Love Secret #3
Bonus-Tracks auf der Deluxe-Version: Baby, Forgive Me (Single Version) / Static (No Static Version)
Musik bestimmt das Leben des New Yorkers Jeff Slate. Der Singer-Songwriter und bekennende Beatles-Fan arbeitete bereits mit The Who-Mastermind Pete Townshend und dessen Bruder Simon zusammen, war Support-Act von Sheryl Crow und gründete 1997 die Rockband The Badge, die ein Jahr später mit "Digital Retro" ein sehr interessantes Album vorlegte. Zum zehnten Todestag von George Harrison machte Slate während einer Englandtournee sowohl im Konzert als auch bei einem Besuch im Studio der BBC mit leidenschaftlichen Interpretationen von Harrison-Klassikern auf sich aufmerksam. Über seine eigene Musik hinaus ist Jeff Slate seit Jahren als Kolumnist für Guitar World, Esquire und examiner.com tätig.
2012 veröffentlichte Slate das Album "Birds Of Paradox" und brachte dabei das Kunststück zustande, als erster Künstler überhaupt ehemalige Mitglieder von John Lennons Begleitband Elephant's Memory und von Paul McCartneys Wings auf einem Album zu vereinen: Der Bassist Gary Van Scyoc und der Keyboarder Adam Ippolito begleiteten John Lennon auf dessen Alben "Some Time In New York City" (1972) und "Live In New York City" (1972, posthume Veröffentlichung 1986). Laurence Juber dagegen war der Leadgitarrist der letzten Wings-Besetzung, zu der auch Schlagzeuger Steve Holley gehörte. Sie alle sind Teil der Studioband, mit der Jeff Slate "Birds Of Paradox" aufnahm.
Die Musik des Albums verbindet man zunächst nicht direkt mit den Melodien oder dem Stil der Beatles. Jeff Slates Songs klingen mehr wie die von Tom Petty – allerdings ohne dessen typischen Byrds-Einschlag. Eine Schublade, die dagegen schnell geöffnet werden kann: handgemachte, ehrliche Rockmusik. Und das ist durchaus positiv gemeint. Die Sounds von "Birds Of Paradox" sind organisch, authentisch und zeugen von der Hingabe der Musiker. Die erste Nummer "Babylon" legt ein gutes Tempo vor und gefällt durch kantige Gitarrenriffs und schönes Gegniedel der Hammondorgel. Für Slate ist "Babylon" ein Statement zur Gewissenlosigkeit der Gesellschaft. Zu den eingängigsten Songs des Albums gehört "Lucky Day Sunset", das von der Sehnsucht handelt, das unstete Leben hinter sich zu lassen und zu einem Menschen zurückzukehren, der einem Halt gibt. In "Static" kritisiert Jeff Slate die Gleichförmigkeit und Monotonie des Formatradios. Die Songs des New Yorkers sind nach eigener Aussage halb autobiografisch, halb fiktiv, wobei den Texten sicher nicht zu viel Bedeutung beigemessen werden soll.
"Birds Of Paradox" enthält mit "A Little Piece Of Me", "San Francisco Days" (mit souligen Bläsersätzen), "She Was A Princess" und "Love Secret #3" gleich vier Balladen. Den größten Eindruck hinterlässt dabei "Love Secret #3", eine auf Akustikgitarre und Stimme reduzierte Klage über enttäuschte Liebe. Am rockigsten geht es bei "Rolling Down The Avenue" zu, das durch duellierende Leadgitarren von Laurence Juber und Jimmy McElligott glänzt.
Dieses Album will nicht mit lyrischen Meisterleistungen, kompositorischen oder instrumentalen Innovationen die Rockmusik neu erfinden. Es bewegt sich im Rahmen der im Genre allgemein üblichen Strukturen und Stilmittel, die aber nie aufgesetzt wirken, sondern immer Ausdruck der Spielfreude der Musiker sind. Zum Schluss öffne ich nochmal die Schublade: Freunde "ehrlicher" Rockmusik werden "Birds Of Paradox" mögen.